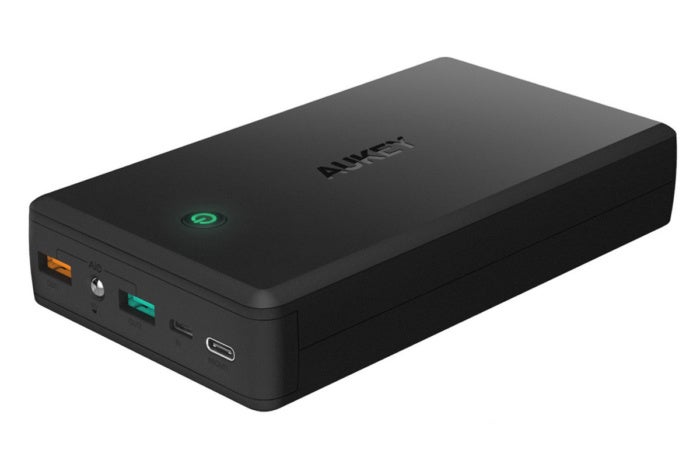 The
AUKEY POWER BANK
with Quick Charge 3.0 PB-T1 is the first very high-capacity battery with the right mix of size, weight, and features for laptop recharging. It's only drawback is that it can't recharge a Mac laptop unless it's sleeping, because it lacks support for USB Power Delivery 2.0, which can pass through high wattages needed to charge a laptop while it's in use.
Packing 30,000 milliampere hours (mAh) or 111 watt-hours (Wh), the Aukey showed in testing that it could deliver the equivalent of over 1.5 full charges for a 2016 12-inch MacBook or deliver more than a full charge to the 13-inch MacBook Pro with Touch Bar. My 2015 12-inch MacBook recharged at a rate between 7Wh and 8Wh per hour, which translates to a couple of hours of low-intensity, low-brightness use per each hour of charging.
Weighing in at just over a pound (20.4 ounces) and taking up volume a bit smaller than a paperback book (5.9 x 3.3 x 1.1 inches), it's the perfect item to throw into a bag when having access to an outlet is iffy. On a long-haul flight or other situation without power for an extended period, this battery is your current best choice.
Test results
The battery pack is fairly efficient, delivering in testing over 60 percent of its total potential as charge, or about 65Wh. The available energy range with other USB-C battery packs varies from 50 percent to about 85 percent, as power conversion, heat, and other factors reduce the total available charge.
The battery shares the problem of all those currently on the market, in that it taps out at 15W (3A at 5V) over USB-C for both recharging itself and charging external devices. That's a shame, because the USB-C spec allows far higher charging parameters with the right internal circuitry, cable, and power adapter. This means that the Aukey can't recharge any model of Mac while the computer is awake.
In my testing, with a 2015 12-inch MacBook with an aging battery, I wasn't able to hit that maximum 15W charge rate, either. A battery monitoring app showed the battery delivering 15W, but the actual transfer was roughly half that speed, which can be attributable to conversion loss (between the 3.6V pack's cells and the MacBook's 7.55V cells) and other inefficiencies.